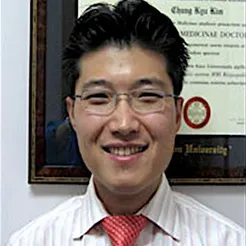 I love being a dentist: this profession has become my life and I cannot imagine anything more rewarding.
Every day I am helping people, by relieving pain, restoring function, and making smiles even more attractive. Yet my patients are also helping me. Our conversations, what they share about their lives, experiences, and thoughts, give me a better understanding of people, life, the world, and myself.
I feel good about being a dentist. Regardless of the procedure, little or big, if patients have a better life because of my treatment, that's the big reward for me.
MY TEAM AND OUR PRACTICE
I appreciate each of the staff in my practice. They are caring, compassionate individuals and treat everyone with care from the heart. Our patients tell us they come to us for their dental needs because we are gentle and professional, that they feel safe with us and comfortable in our care.
We are all humbled by the trust patients place in us and strive to exceed their expectations every day, in every way.
EDUCATION AND EXPERIENCE
My Doctorate of Dental Medicine (DMD) was awarded by Boston University Dental School. I started practicing as an associate dentist in 2001 and purchased Healthy Smiles Dental Care in 2005.
Each year I attend many dental gatherings, including the Connecticut Dental Meetings, Yankee Dental Meetings, and New York Greater Dental Meetings. I also take courses offered through the American Dental Association and Connecticut State Dental Association.
A large part of my commitment to patients and my profession is continuing education. Dentistry is always evolving: the development of new treatments, materials, and technologies mean more options for patients and better care experiences. It's my responsibility to learn about, evaluate, and incorporate the best of these advancements into the practice.
ABOUT OUR DENTAL TEAM
We recognize that all of our patients are unique and deserve to receive dental care that reflects their individual needs. Our experienced and talented dental team is committed to working with you and your family to create a comfortable, stress-free, and rewarding dental experience every time you visit our practice.
We are pleased to welcome you and your family, and we look forward to working with you.